Kapwing – Video editing tool reviewed
I wanted to share a new tool which is great for editing videos and working with content for online promotion. It goes by the name of Kapwing. If you aren't familiar with Kapwing, it's a simple, yet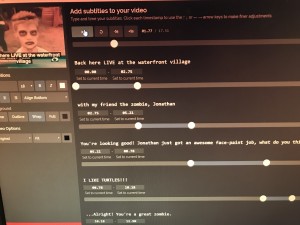 powerful tool for creating engaging images, GIFs, and videos online. Resize and Arrange videos and Upload images, videos, and GIFs to create original content or arrange them on a canvas for social media. Embed Text and Images
Other things you can do is add captions, logos, labels, calls to action, stickers, and more on your photos and videos. And simultaneously adjust timing, set custom colors, animate, and add music all in one tool.
They have a number of different features. The first is: Studio
Creativity is easy with Studio, Kapwing's flagship product. Take any image, gif, or video and add text, make memes, resize, and more.
The second great tool is their Video Maker tool: Here you can combine video, append images, and create a slideshow using this easy tool for montages.
Finally their Meme Generator is perfect for Instagram and Facebook. Here you can make memes easily online. Choose a template, add your meme image or video, and generate in just a few clicks.
Other features, and one which is important to me is their Subtitler function which allows you to add captions and subtitles to video completely in the browser. Not only that but you canAdd Audio to Video and easily add audio or music to a video. Adjust the start time of the audio for the perfect sync.
To get it social media worthy you can also use their Resize Video feature to resize videos online to fit square, widescreen, or portrait frames in just a few clicks.
You can also use their tool to Loop Videos ; loop and repeat video online in just a few clicks. Makes it easy to lengthen a short video. Additionally you can Trim Videos by easily selecting the perfect part of your video. Simply drag the start and end to trim and cut.
Another useful tool is their Collage Make in which you can position images, gifs, and videos side by side with the online collage maker.
You can also use their service to Filter Videos – what I mean by that is you can easily apply filters to your video or image online. Adjust brightness, saturation, and contrast and also cnvert an image into a video instantly. Other features include playing your video backwords with a rewind effect, video Speed Changer in which you can loop and repeat video online in just a few clicks. Makes it easy to lengthen a short video and Trim Audio functionality to easily get the perfect snippet from your audio.
Finally their Convert Video allows you to convert video to an image frame, GIF, or other video format.
Overall I would give this great, multifunctional tool 9/10 and you can sign up here for a free trial. https://www.kapwing.com